HR(S)TEM image simulation package
In order to unlock the Dr. Probe GUI, a code is needed. You will get such a code via email in answer to a request email that you have to send. Please include all information as listed below in your request! Request emails without request string, name, or affiliation cannot be processed.
Registration request are processed manually. This may cause delays in particular when time-zone differences are involved, during weekends or vacation.
Course registrations
A course registration scheme is available on request. Please, contact us by email to discuss further details and arrange the registration for your course participants.
Individual requests
1. include a request string generated by the Dr. Probe app
2. include your name (English writing)
3. include your affiliation / institution (English writing)
4. send all to drprobetool@gmail.com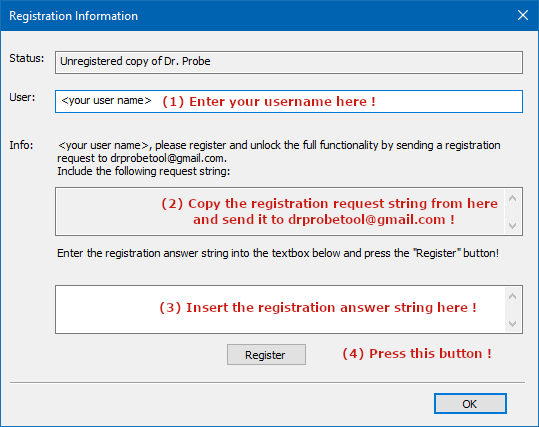 Start the Dr. Probe GUI app. Follow the sequence below when the Registration Information dialog pops up:
1. Enter a user name.
2. Copy the generated request string into an email, add your name & institution, and send all to drprobetool@gmail.com.
3. Wait for a reply containing a registration answer string, and copy the string into the lower textbox of the dialog.
4. Press the [Register] button to finish the registration.
Email addresses used for transferring your registration will be added to a private mailing list. The mailing list is used to broadcast releases of new major version only. Please indicate in the registration request if you don't want to be added to the mailing list, or write an UNSUBSCRIBE email to drprobetool@gmail.com
A registration scheme is implemented in the Dr. Probe GUI in order to control compliance with the free-of-charge licensing scheme for academic users. General information about installation sites collected since March 2014 is displayed below.
Registered installations: 1763
Registered users: 1329
Installations in 59 countries world wide.
TOP TEN countries
(not counting multiple installations per site)
| Country | Number of sites |
| --- | --- |
| USA | 93 |
| China | 86 |
| Germany | 46 |
| Japan | 33 |
| South Korea | 31 |
| India | 29 |
| Great Britain | 26 |
| France | 24 |
| Spain | 22 |
| Russia | 12 |